WORD LIFE BIO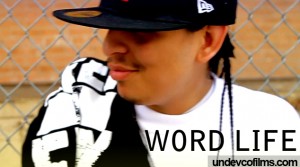 Adriel Ruiz, originally from the Bronx, NY, is one of the realist artists alive in the underground world of Hip Hop. Keeping his word and his strong ambition for success became the inspiration for his stage name, Word Life. He began recording and releasing several street mixes which gained him street and industry recognition.
At the young age of 17, he released his first project and began performing at local venues and events throughout the city including opening up for major acts such as "Mobb Deep, Young Jeezy, King Los, Curren$y, 8 Ball & MJG, Joey Bad Ass, Kendrick Lamar's Artist "Ab-Soul", Chevy Woods, Pro-Era, Souls of Mischief, Smoke Dza, Talib Kweli, The Cool Kids, Devin The Dude, Krs-1, Kool Herc, Busy Bee, Erykah Badu, Opio (Heiroglyphics), Tech 9, Stalley from MMG, Chingo Bling, Slim Thug, August Alsina, Bun B, Paul Wall, Killah Priest of Wu Tang, Planet Aisa, Def Jux, + many more!
Word Life has carved his name in the heart of Dallas where dallas natives anticipate and follow his every step. Word Life's determination and passion for music is clearly seen and heard in everything he is involved with. He is one of the most prominent underground acts out right now and also the founder of KingofallFresh.com which encompasses everything from the music, videos, clothing line and recently a media publishing company. Word Life is only getting started and there is much more to come!